Nessie Diary
 
Important Information Please Read First
All sighting and photographic references on this page are documented and can be verified through various publications.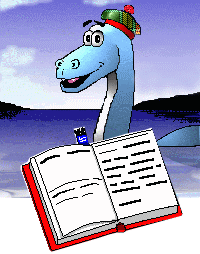 Hi folks ! My name's Nessie and I live in Loch Ness, Scotland. I'm an elusive creature, I manage to keep my appearances to a minimum. Below are some of the entries in my diary of when I've been seen, with a few snapshots to prove it. My favourite spot is Urquhart Bay, just beside the castle.
565 a.d.
One of my ancestors was out for a swim one day and bumped into St. Columba who was crossing the loch with his followers.This is the first recorded sighting of our species.
April, 1933
I was spotted by Mr & Mrs John Mackay who were motoring along the loch-side road and saw me basking in the sun in the middle of the loch.
1933
A local chap was walking near Foyers and saw me when I was washing my back.He snapped this photograph for my album.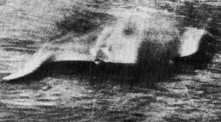 1934
A motor-cyclist called W. Arthur Grant,who was returning from Inverness, saw me having a stroll along the loch side. I scurried down the bank and disappeared leaving him wondering if it was me or not, and it was.
1934
I was seen having my daily swim on the loch by R.K.Wilson who took this photograph of me which I must say is not very becoming, but is the most famous photograph to date.


The Surgeon's Picture..
1934
I was having a dip at the Fort Augustus end of the loch when I was observed by Brother Richard Horan. He saw me when I was 30 yards out and admired my graceful neck and broad front white stripe.
1955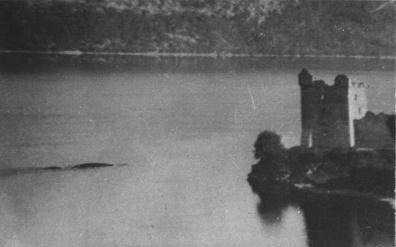 Mr Peter A. Macnab took this photo of me sunbathing in Urquhart Bay. See 'Searching for Nessie'
1960
Noted Loch Ness author Tim Dinsdale filmed me with his 16 mm cine camera. Sceptics suggested that I looked like a small motor boat but they were proved wrong I'm glad to say.
1976
This year some fools were throwing bacon around my home from a hot air balloon but I didn't appear for them as I don't like bacon.
1982
A big search was made this year for me.This loch was covered from side to side with a line of boats using a thing called sonar but I managed to evade them.
All photographs on this page are subject to various copyright.
Nessie graphics are ©Carus.
---
Nessie's Fun Section
Well folks, recently I decided to have a splash out on the loch and have my picture taken for you all to see. I invited Carol and Russ from Ness-Scape to take my picture and what a day they had. Here are the photographs, what do you think ? Don't you think I'm a handsome creature ?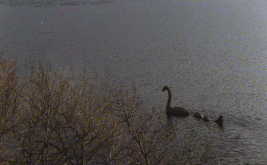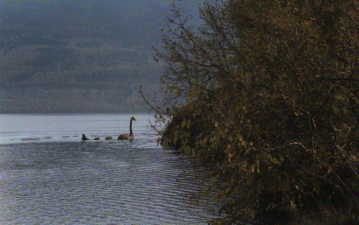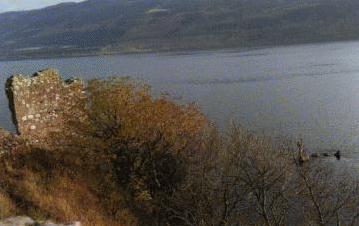 Legend of Nessie - Ultimate and Official Loch Ness Monster Site
---
[Searching for Nessie] - [Nessie's Diary] - [Nessie's Loch Ness Times] - [Nessie's Chat Forum]
[Contact Nessie] - [List of Sightings] - [The Nessie Hunters] - [Film Evidence]
[Geology of the Loch] - [Sonar Contacts] - [Gutter Cleaning Service]- [Is This Nessie?]
[Nessie Sketches] - [Nessie Question?]  - [Loch Ness Mystery]
[Nessie's Favourite Links] - [Back to Main Page]
[Dividend Yield Calculator]
Subject to various copyright © Legend of Nessie 1996 - 2009.