The Evidence

Important Information Please Read First
All sighting and photographic references on this page are documented and can be verified through various publications.

A New Loch Ness Monster Picture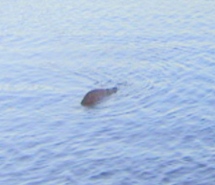 "It was slowly moving up the loch towards Urquhart Castle and it was a dark grey colour.
It was quite a fair way from the boat, probably about half a mile away....I have friends in the USA who have friends in the military. They had my photo analysed and they have no doubt that I photographed an animate object in the water" George Edwards Nov 2011
---
Legend of Nessie - Ultimate and Official Loch Ness Monster Site - The Evidence
Map of Loch Ness
Back to Index
A Picture of Nessie?
Analysis of the Tim Dinsdale Film
Recorded Film Evidence
Drawings and Opinions
More Drawings and Opinions
Index of Water based Sightings
Index of Land Based Sightings
Index of Reported Sonar Contacts

---
[Searching for Nessie] - [Nessie's Diary] - [Nessie's Loch Ness Times] - [Nessie's Chat Forum]
[Contact Nessie] - [List of Sightings] - [The Nessie Hunters] - [Film Evidence]
[Geology of the Loch] - [Sonar Contacts] - [Loch Ness Mystery]
[Nessie Sketches] - [Nessie Question?] - [Is This Nessie?]
[Nessie's Favourite Links] - [Back to Main Page]
[Legend of Nessie's Mascots]
Subject to various copyright © Legend of Nessie 1996 - 2009.