Searching for Nessie (continued...)


Important Information Please Read First
All sighting and photographic references on this page are documented and can be verified through various publications.


When the war was over and up until the late '50's sightings of Nessie continued as people got back onto the road with their motorcars on the Loch side road. The monster was still a local source of interest but remained the complete enigma.

In 1951 a new photograph appeared which to some confirmed the existence of the monster. On the 14th of July at around 6:30 a.m. Mr Lachlan Stewart, a woodcutter employed by the forestry commission, saw something large moving out on the Loch. With a friend he ran to the waters edge and there about 50 yards away they saw three humps, each about 5 ft long moving at fast speed. Mr Stewart ,who had picked up a small camera before leaving his house, took this photograph.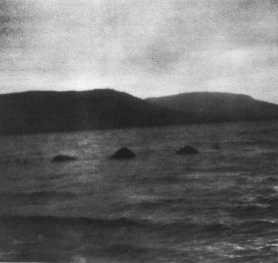 Seconds later a small head and long neck appeared in front of the first hump then the monster turned out towards the centre of the Loch and with a lot of splashing swam off and sinking head first 300 yards offshore, disappeared. Mr Stewart estimated the length of head and neck to be 6 ft, and then 15-20 ft behind the last hump he noticed a commotion in the water suggesting the movement of the tail.
In December 1954 another 'sighting' was made by a Peterhead fishing drifter called 'Rival III'. The vessel captured an unusual graphical recording of a large object at a depth of around 480 ft - 100 ft or so above the bottom - which kept pace with the boat for half a mile then disappeared.
Another eyewitness account happened in October 1955, by Colonel Patrick Grant of Knockie Estate. He was travelling from Fort Augustus to Invermoriston and nearing Inchnacardoch Bay he saw a great commotion in the water between 100-200 yards from the road. He brought his car to a stop and could see a black object above the surface 10 or 15 ft long. In less than a minute the object suddenly started swimming eastwards, parallel with the shore and very near the surface though submerged. Moving at great speed it travelled 200-300 yards and disappeared completely.
1955 brought one of the most intriguing photograph ever taken. Peter A. Macnab from Ayrshire was having a holiday in the Highlands and was preparing to take a photograph of Urquhart Castle. His attention was drawn to his left where he saw an enormous dark animal with two humps. This is the photograph he took.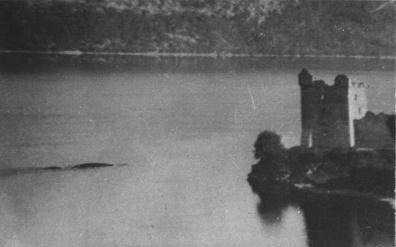 Spring 1958. The proprietor of The Foyers Hotel, Mr Hugh Rowand, his wife and two friends were seated in their garden overlooking Loch Ness when his eye caught a stationary fin shaped object in the water near Sand Point. A few seconds elapsed and the object sprang into life and shot across the Loch towards Drumnadrochit. Mr Rowand guessed it's speed to be in the region of 20-25 knots.
A Mr H.L. Cockrell of Dumfries, Scotland, had a remarkable experience with the monster in the Autumn of 1958 when he met it in his canoe on the Loch. Mr Cockrell being an expert seaman and familiar with small crafts had developed a waterproof camera with flash equipment which he used from his canoe.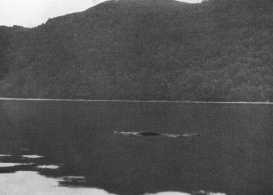 The camera was strapped to his head like a miner's lamp and activated by the movement of his mouth which left his hands free to paddle. He was boating about dawn on the Loch when something appeared about 50 yards away. It looked like it had a large flat head 4 or 5 feet long and about 3 feet to the rear of this he noticed another thin line, all very low in the water. He swung round to approach what ever it was and to his great horror it turned towards him. He took a shot with his camera and kept moving towards it and to his relief the creature turned to another direction. When the film was developed , although it showed the Loch to be calm, there was a great deal of disturbance on part of the surface of the water.
Legend of Nessie - Ultimate and Official Loch Ness Monster Site - Searching for Nessie
Map of Loch Ness
Back to Index
Page 1
Page 2
Page 3
You Decide
Page 5
Page 6
Operation Deepscan
Project Urquhart

---
[Searching for Nessie] - [Nessie's Diary] - [Nessie's Loch Ness Times] - [Nessie's Chat Forum]
[Contact Nessie] - [List of Sightings] - [The Nessie Hunters] - [Film Evidence]
[Geology of the Loch] - [Sonar Contacts] - [Loch Ness Mystery]
[Nessie Sketches] - [Nessie Question?] - [Is This Nessie?]
[Nessie's Favourite Links] - [Back to Main Page]
[Legend of Nessie's Mascots]
Subject to various copyright © Legend of Nessie 1996 - 2009.