Searching for Nessie (continued...)

Important Information Please Read First
All sighting and photographic references on this page are documented and can be verified through various publications.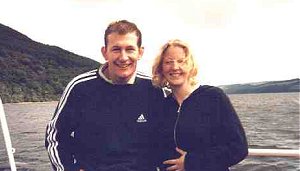 This latest sighting occurred on 13th July 2000 at approx 11.00am
by Melissa Bavister and Chris Rivett

Melissa and Chris were on holiday in Scotland. On the 13th of July this year they were travelling on the North shore of Loch Ness near Drumnadrochit when they stopped in a lay-by to take a scenic picture of the Loch a camera with a 23mm lens. They hadn't noticed that also in the pitcure was the now familiar humps that are associated with Nessie.

Here is their own story of events that morning.
Melissa said: "We had stopped at a lay-by and I'd snapped one picture using my little Kodak camera.
"I just wanted a scenic picture to show people back home. I was amazed when I looked at the photograph."
Chris said: "Melissa and I were just admiring the beautiful scenery and saying how much we had enjoyed Scotland when I spotted this shape in the picture. "I said to Melissa that there are no islands out in the middle of the loch and that got us wondering just what was it out there on the water.
"To be honest, neither of us saw anything that made us think: 'There's the monster', and take a picture.
"At the same time, we are positive we never saw anything else, such as a boat, that could have given this image.
"Had something attracted our attention, I would have grabbed a camera with a telephoto lens from the car."
The couple, from Northampton, had visited relatives in Edinburgh and Perth before going on to Loch Ness. Melissa said: "We drove out from Inverness on the Urquhart Castle side of the loch on the main A82 road.
"Just past the village of Lochend the big lay-bys with the fixed telescopes were crammed with visitors, so we drove on about a mile or two until we found a lay-by that was empty.
"It was a fine clear day and we are positive there were no craft on the loch or birds flying about."

Experts have agreed the single photograph showed a very large object in the water half a mile from either shore.
The exact location, near the reputedly haunted Boleskin House, is one of the deepest parts of the 23-mile-long loch, believed to be around 700ft deep.

Alistair Bowie, the Inverness photo lab technician who developed the print, confirmed that the image is on the negative. He told a local newspaper:"The object is on the film and it's not a mark on the negative. Whatever this is, it was there when the picture was taken." The startling image was also examined by Jim Cordiner, senior lecturer in photography at Glasgow's School of Building and Printing. He also told the same newspaper: "It's certainly one of the more interesting monster photographs I have seen."
So is it Nessie? Jim said: "Most pictures are explained away. What we have here is a large object with two clear, definable humps in the middle of a loch."

Legend of Nessie - Ultimate and Official Loch Ness Monster Site - Searching for Nessie

Map of Loch Ness
Back to Index

Page 1
Page 2
Page 3
You Decide
Page 5
Page 6
Operation Deepscan
Project Urquhart

---
[Searching for Nessie] - [Nessie's Diary] - [Nessie's Loch Ness Times] - [Nessie's Chat Forum]
[Contact Nessie] - [List of Sightings] - [The Nessie Hunters] - [Film Evidence]
[Geology of the Loch] - [Sonar Contacts] - [Loch Ness Mystery]
[Nessie Sketches] - [Nessie Question?] - [Is This Nessie?]
[Nessie's Favourite Links] - [Back to Main Page]
[Legend of Nessie's Mascots]
Subject to various copyright © Legend of Nessie 1996 - 2009.